October 26, 2017
News
0 Comments
Interested in Becoming an Investor?
If you know a millionaire, they likely acquired their wealth as a result of real estate investing. There are many types of real estate a person could invest in, but one of the best choices is to invest in multifamily real estate. Our friends from SVN | Southgate Realty, LLC recently published a blog post that talks about this very topic. They point out the challenge of multifamily investing, but then they present multiple compelling points, as to why this is a good choice, if you can afford it. Please read the excerpt below, and if you like it, read the full blog post. You can access the full blog post by clicking the button at the end of this post. Thanks for reading!
---
If You Want Returns, Invest in Multifamily Real Estate
With rental prices increasing yearly at a historically high rate, more and more people are looking towards real estate investment as a viable source of income.  Although there are countless investment options available, multifamily real estate is sure to offer you a significantly higher return on your investment than any other type of property.  It seems that many investors shy away from this sector due to the larger figures associated with down payments or lack of experience within the market, but if the money is available to you, there is no doubt that multifamily real estate is the way to go.  Let's take a look at some of the greater benefits you will likely experience by choosing this route as opposed to single family units or other commercial real estate.
Increased Cash Flow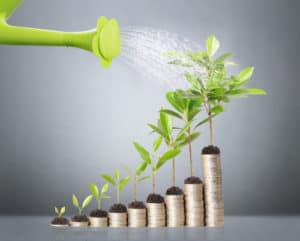 Your cash flow is what will be left over after your tenants' rents have paid off the building expenses.  It is imperative to determine what that might be before committing to a purchase.  There are three main ways to calculate property value, but when it comes to multifamily real estate, the income approach is most commonly used.  This approach determines the value of a property by first assessing the net operating income and capitalization rates.  Net operating income refers to the annual income leftover on a property after all of the yearly expenses have been accounted for.  Capitalization (Cap) rate is the net operating income divided by the original price of the property and represents your potential return before debt.  For example, if a property was listed for $1 Million and the associated net operating income was estimated at $100,000, your Cap rate would be 10%.  This is a far larger yearly return than you could ever expect to get on a single family unit.
Safety in Numbers
When you own a single-family unit, there is always the possibility that it may stay vacant for a period of time, which can greatly affect your ability to pay associated costs with the property.  Although the same possibility exists in multifamily real estate, the stakes are much lower.  When you own a building with 30 units, you are far less likely to be….
---